WELCOME TO DANA POINT, CA
My name is Bret Johnson, I am a local resident and Realtor® serving the city of Dana Point and the surrounding South Orange County area. I have over 8 years of experience in the real estate industry, and have been highly involved in almost every aspect including; home sales, leasing, tenant representation, property management, marketing & design. I currently live and specialize in the community of Lantern Village and work as an agent for Prudential California Realty in Monarch Beach, one of the top Real Estate offices in Southern California. As a local Dana Point Realtor in I have the experience, knowledge & connections to help guide you through all of your Real Estate needs.
It is my goal to provide all Dana Point home buyers, sellers and investors with the utmost level of professional real estate services and personal attention, as I understand how significant of an impact these decisions can have on your life. Whether you are buying your first condo or your third luxury beach home, you need an agent who will not only focus on your present needs, but also your future success and satisfaction. You can expect me and my team of Dana Point Real Estate professionals to always be available to answer your questions, manage your concerns, provide solutions to challenges and guide you with your best interests in mind. Even after your transaction is complete, I will be available to you as your local resource, adviser and friend.
---
Bret Johnson – Your Personal Real Estate Agent in Dana Point, CA 92629

---
Client Review - Jan 24, 2012: Bret is my favorite Dana Point Real Estate Agent! He was very helpful, professional & polite! Bret made looking for an apartment easy & I would recommend his services to all of my friends & family!
---
I offer service for all types of real estate in the greater Dana Point area, from single-family homes, condos, investment properties and luxury estates. No matter what your goals, I will treat your venture with the integrity and discretion it deserves.
Feel free to explore my site to learn more about the area, communities, lifestyle and begin your search for your dream home.  Please contact me, Dana Point Real Estate agent Bret Johnson, whenever you feel ready to take the first step towards buying or selling a property.
Direct Cell: (949)505-2426
Bret@ImmelTeam.com
---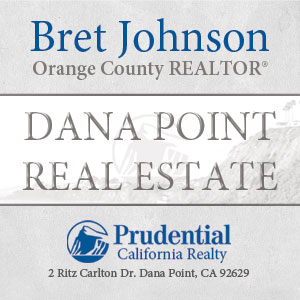 Me and my team offer over 35 years of experience in the Real Estate Industry including:
---
ABOUT – THE CITY OF DANA POINT
Dana Point is a renowned California destination, where magnificent coastal surroundings meet a vibrant, small beach town lifestyle. Featuring some of the best weather in Southern California, countless attractions and amenities, as well as some of the most beautiful beaches in the country, this is an idyllic place for people of all lifestyles to live, work and play.

Dana Point is a small beach city located on the beautiful Southern California coast, between Laguna Beach and San Clemente CA. Dana Point has nearly seven miles of coastline and hills along the Pacific Ocean with charming beaches and some of California's premier surfing destinations. The city of Dana Point offers tremendous coastal views from its prestigious Headlands Bluff, which overlooks the Dana Point Harbor, one of the most significant and beautiful harbors on the Orange County coastline. Dana Point covers 6.5 square miles and is home to over 35,100 residents and hundreds of flourishing local businesses. You can see the community in action during some of the City's annual festivals including the November Turckey Trot, The Festival of Whales in March, and the annual 4th of July fireworks show at the Dana Point Harbor. The city is also home to the newly opened Ocean Institute and hundreds of local businesses, all within walking distance from one another. Dana Point offers several types of homes for sale including cape cod, colonial, contemporary, modern, craftsman and ranch styling. Whatever your personal taste, the city of Dana Point has homes for sale at any given time that will perfectly fit your style, personality and needs.
---
Dana Point Community Statistics
The City of Dana Point was incorporated in 1989, exactly 100 years after the County Of Orange was established. In 2014 we will be celebrating the 25 anniversary of the city and the 125th anniversary of Orange County, CA.
Fun Facts:
Dana Point has over 6 1/2 sqaure miles of land in the city.
Dana Point also has 7 1/2 miles of coastline
The city has over 100 restaurants
The city of Dana Point features 23 parks and recreational areas including 5 Dog park areas.
Dana Point features more hotel and resort rooms than any other coastal Orange County community. Over 50 % of the cities revenue comes from travel and tourism. With over 1900 total hotel rooms available, the city can accommodate thousands of travelers at a time and has long been a popular vacation desitination.
Doheny State Beach features 62 acres of land with over 122 campsites. It is California's 1st state sanctioned beach and was donated to the state by Edward Doheny in 1931.
---
| | |
| --- | --- |
| City Of Dana Point Demographins | |
| Date Of Incorporation | Jan 1st, 1989 |
| Type Of Government | Council / Manager |
| Total City Area | 6.7 Sq Miles |
| Assessed Property Evaluation | $8,735,352,174 |
| Population | 33,429 People |
| Labor Population Force | 20,797 People |
| Registered Voters (2012) | 23287 |
| Median Age | 43.7 Years Old |
| Dana Point Age Demographics | 2012 |
| 0-14 Years old | 16.2% |
| 15-24 Years old | 11.1% |
| 25-34 Years old | 12.2% |
| 35-44 Years old | 15.2% |
| 45-54 Years old | 16.2% |
| 55-64 Years old | 14.6% |
| 65-74 Years old | 7.5% |
| 75-84 Years old | 5.4% |
| 85+ Years old | 1.6% |
| Median Household Income For DP | $80,468 |
---
| | |
| --- | --- |
| Total Dana Point Housing | 15,944 |
| Single Family Home Units | 63.4% |
| Multi Family Real Estate | 34.2% |
| Mobile Homes | 24% |
| Home Owners | 58.4% |
| Home Renters | 34.3% |
| Average Rental Cost In Dana Point | $1,470 |
| Real Estate Vacancies | 11% |
| Number Of Businesses In Dana Point | 1350* |
| Number Of Hotels In Dana Point | 14 |
| Total Hotel Rooms In Dana Point | 1912 |
| Employment Demographics For Dana Point | |
| Professional / Managerial | 42.7% |
| Sales / Administration / Support Jobs | 28% |
| Service Industry Jobs | 15.4% |
| Construction & Maintenance | 7.2% |
| Top Dana Point Job Employers | |
| Ritz Carlton Resort Hotel | 970 |
| St. Regis | 800 |
| Caistrano Unified School District | 410 |
| Laguna Cliffs Marriot Resort | 250 |
DANA POINT COMMUNITY INFORMATION
---
[flagallery gid=1 name=Gallery]
---
---
Some Of Our Favorite Dana Point Businesses
The St. Regis Monarch Beach - One Monarch Beach Resort Dana Point, CA 92629     (949) 234-3200
GenKai Sushi - 34143 Pacific Coast Hwy Dana Point, CA 92629     (949) 240-2004
The Shwack Beach Grill – 24502 Del Prado Dana Point, CA 92629     (949) 218-2731
Thai This – 24501 Del Prado St. B Dana Point, CA 92629     (949) 240-7944
The Little Asain Cafe – 24831 Del Prado Dana Point, CA 92629     (949) 276-7799
Stacks Pancake House – 34255 Pacific Coast Hwy Dana Point, CA 92629    (949) 429-2222
---
Bret Johnson's Dana Point Real Estate Pages
Dana Point Homes Facebook
Dana Point Homes Myspace
---
Contact
The Immel Team
2 Ritz Carlton Dr. #202
Dana Point, CA 92629
Cell: 949.505.2426
Monarch Beach Homes
2 Ritz Carlton Dr. #202
Dana Point, CA 92629
Dana Point Real Estate
2 Ritz Carlton Dr. #202
Dana Point, CA 92629
Dana Point Homes
2 Ritz Carlton Dr. #202
Dana Point CA 92629
United States
MAILING ADDRESS ONLY
Laguna Beach Real Estate
1611 Hillcrest St.
Laguna Beach CA 92651
United States
Laguna Niguel Real Estate
29461 Christiana Way
Laguna Niguel CA 92677
United States